artisanal
farmstead
gourmet
Imported, Domestic, Local
The Cheese & Spice Market is a local cheese shop, a spice market, and a gourmet food store, all in one. 
We provide customers with fresh and ripened artisanal and farmstead cheeses, cured meats, hams, salami, pate, and olives, flavorful herbs, spices and teas, and the finest of gourmet products. 
Our Latest Instagram Posts
Proud Member - Please support your local businesses!
Hover over or click on these latest Instagram photos to read the posts.
Cheese and Meats
See, smell, taste and enjoy!
The Cheese & Spice Market carries a large variety of cheeses, meats, olives and other accompaniments.
This is just a sampling of the products we carry, subject to availability.
CHEESES
Local and Domestic
Appalachian
Catapano Goat Chevre
Evalon
Goodale Goat Chevre Humbolt Fog
Midnight Moon
Moses Sleeper
Peconic Bel
Red Hawk
Truffle Tremor
Blue Cheeses
Bayley Hazen
Bay Blu
Blu Di Bufala
Cambozola Black Label
Jersey Blue
Persille De Rambouillet
Saint Agur
Shropshire
Smokey Blue
Stilton
Cheddars
Apple Smoked
Fiscalini
Goodale Bo's
Quebec 7 Yr.
Tickler
Tumbleweed
Gouda
Beemster XO
Ewephoria
Isabella
Reypenaer VSOP
Smoked Guoda
VlaskasCroatia
Paski Sir
England
Horseradish Cheddar
Huntsman
Red Dragon
Red Leicestershire
Wensledale Blueberry
Wensledale Cranberry
France
Brebirousse D'Argental
Brillat Savarin
Camembert
Compte
Delice de Bourgogne
Fromager D'Affinois
Petit Basque
Raclette Rouzaire
Saint Agur
Truffle Brie
Vacherousse
Ireland
Cahill Irish Whiskey
Crozier Blue
Italy
La Tur
Parmigiano Reggiano
Pecorino Moliterno al Tartufo
Pecorino Romano Fulvi
Provolone (Aged)
Quadrello
Sottocenere
Taleggio
Sardinia
Fiore Sardo
Spain
Campo de Montalban
Drunken Goat
El Trigal Manchego
Idiazábal
Leonora
Rosey Goat
Switzerland
Challerhocker
Gruyere
Scharfe Maxx
Walo Red Nosed
MEATS
Bresaola
Chorizo (Hot/Sweet)
Garlic Sausage
Jambon De Paris
Pate
Pepperoni
Prosciutto
Salami
Serrano
Sopressata (Hot/Sweet)
Accompaniments
French Mix Olives
Frescatrano Olives
Kalamata Olives
Peppedews
Fig Cake
Fig Jam
Marcona Almonds
We have high-quality herbs, spices, seasoning, blends (ground and whole), salts and teas from around the world.
You will see, smell and taste the difference in the many common to exotic spices we carry. Here is a small example of the products we carry.
HERBS AND SPICES
Allspice Whole
Anise Seeds and Stars
Arrowroot
Baharat
Basil
Bay Leaves
Berbere
Bourbon Whiskey Extract
Black Pepper
Cajun Spice
Caraway Seeds
Cardamon
Cayenne Pepper
Celery Seed
Chile Lime Seasoning
Chile Powder
Chilean Alino
Chipotle Pepper
Cinnamon Ceylon
Cinnamon Saigon
Cinnamon Sticks
Cloves
Corriander Seeds
Curry & Indian Spices
Crystallized Ginger
Cumin Ground
Cumin Seeds
Curry Powder
Dill Weed
 
Fennel Pollen
Fennel Seed
Fenugreek
Five SpiceGaram Masala
Garlic Minced
Ginger Ground
Greek Seasoning
Guajillo Pepper
Herbs de Provence
Jerk Seasoning
Juniper Berries
Lavender
Lemon Peel
Lime Juice Powder
Marjoram
Moroccan Spice
Mulling Spice
Mustard Powder
Mustard Seed Brown
Mustard Seed Yellow Nutmeg Whole
Olive Oil Mix
Orange Peel
Oregano Branches
Oregano Mexican
Paprika Smoked
Paprika Sweet
Parsley
Peppercorns
4 Mix, Black Tellicherry
Malabar, Szechuan,
White
Peppermint
Peppermint Extract
SALTS
Apple Smoked
Black Hawaiian Lava
Chili Lime
Curing Salt
Cyprus Flake
Ghost Pepper
Hawaiian Red Alaea
Lemon Rosemary
North Fork Sea Salt
Pink Himalayan
Sea Salts
Truffle Salts
TEAS
Bewley's Teas
Blood Orange Rooibus# Blooming Teas
Cinnamon Tea
Cold Comfort#
Cranberry Orange Spice
English Breakfast
Earl Grey Blue Flower
Ginger*
Harney & Sons
Hawaiian Paradise#
Holy Detox#
TEAS
Irish Breakfast*
Jasmine Monkey King
Key West Green#
Korakundan Green*#
Kenya Purple
Lemon Chamomile#
Licorice Spice#
Mango Coconut Sencha
Mate Java Espresso
Midnight Choco Loco
Mint Tea*
Masala Chai
Noel Christmas Tea
Oolong Quilan*
Peachy Lemongrass#
Pitta Ayurvedic#
Presidential Berry#
Pumkin Spice
Pink Lemonade#
Quangzhou Milk Oolong Rooibus
Sencha Fancy Green Soothing Sencha
Turmeric Chai*
Uma (Woman)#
Watermelon Basil
Wedding Chai#
White Champagne Raspberry
* Organic
# Decaf
PRODUCTS, GIFTS AND MORE...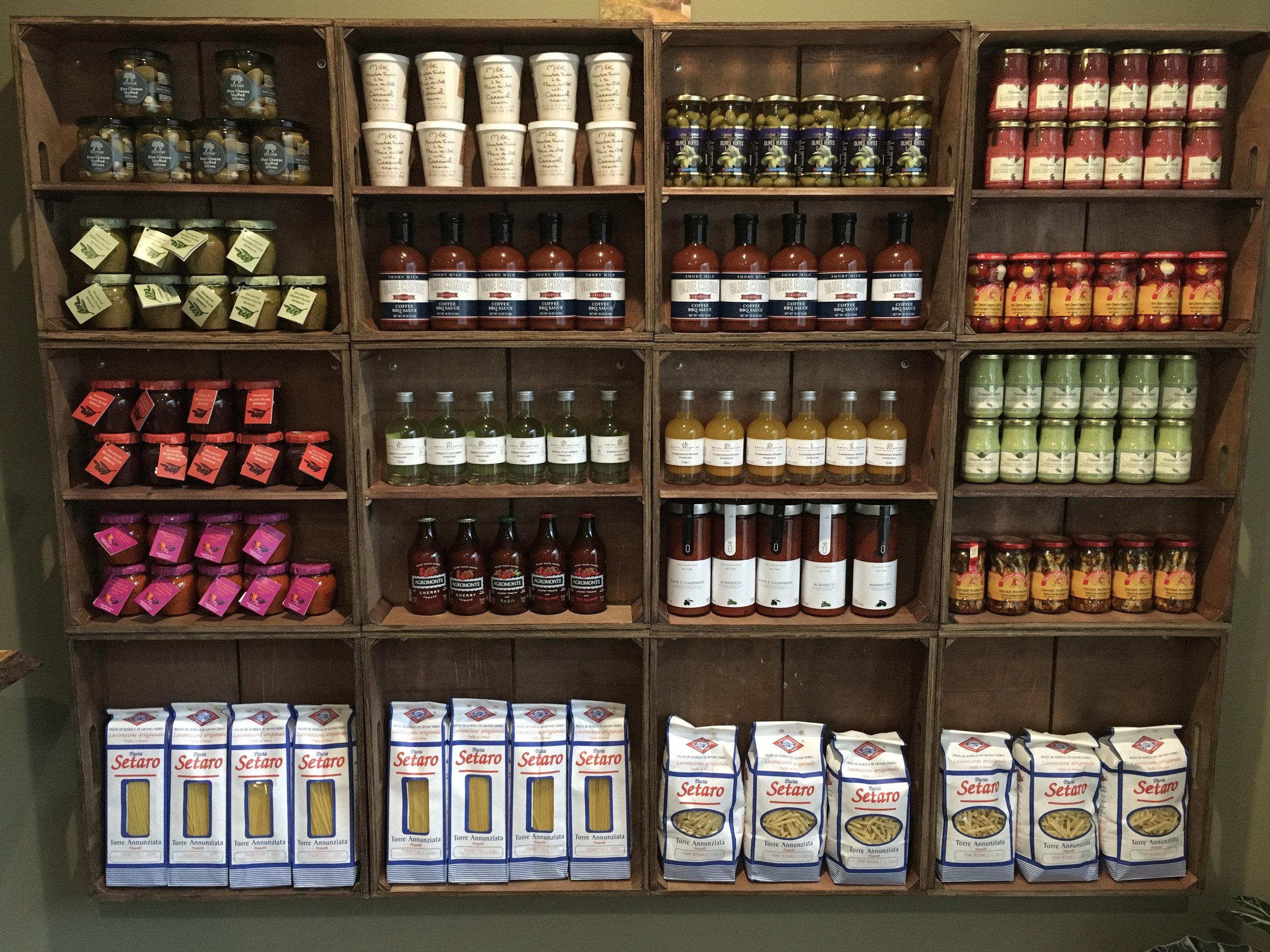 The Cheese & Spice Market has a wide variety of gourmet products, gift items and accessories.
We can help you select gifts and make custom gift baskets for the holidays, corporate functions or personal gifts for birthdays, weddings, housewarmings or any other gathering.
Grocery
Assorted Crackers
Baguettes
Balsamic Beet Slices
Beetroot Ketchup
Bonnies Jams
Candy Sticks
Charissa
Cornichons
Cranberries
Crystallized Ginger
Divina Jams & Spreads
Divina Roasted Tomatoes
Divina Sun-dried
Tomato Stuffed Olives
Divina Blue Cheese Olives
Goat Caramels
Honey Sticks

Kozliks Mustards
Madeleines
Marcona Almonds
Mario Capers
Mike's Hot Honey
Mileeven Honey
Mitica Lavender Honey
Mustards
Olives
Pastas & Sauces
Raw Honey
Red Pepper &
Jalapeno Sauce
Tipsy Olives & Onions
Local Products
Blue Canoe BBQ Sauce
Copia Energy Bars
Copia Granola
Five North Chocolate
Local Bee Pollen
Local Honey
North Fork Salt
Pecks of Main Jams
Piri Piri Sauce
Tend Coffee
Trees Knees Coffee Maple
Weak Knees Siracha
Items
Cheese Boards
Cheese Slates
Cheese Graters
Cheese Knives/Slicers
Fondue Pots
Mozzarella Kit
Pepper Mills
Spice Jars, Tins
Tea Infuser Balls, Spoons
Tea Pots
Vanilla Kits